Formal
Formal socks with pattern and silver SKI - small theme
Availability: in stock
11.0 €
Product description
casual socks
suitable for social events and daily wearing
effective at drawing sweat away from the skin
kill bacteria, eliminate odour
comfortable cuff
Traditional socks for daily use casual or formal. The sock cuff is wider than normal which ensures good grip without restricting circulation or cause discomfort.
The unique properties of nanosilver socks
restrict growth of a wide spectrum of bacteria
absorb sweat, kill bacteria and eliminate feet odour even after a whole day of wearing
prevent mycoses and eczemas and help in their treatment
are non-toxic and do not cause allergic reactions
speed up the process of healing of small wounds and cuts
improve blood circulation in legs and prevent cold feet
are breathable, flexible and anatomically designed
thickened sole ensured durability and comfort
A necessary part of any attire, casual or formal, especially for managers or office workers who keep their feet in closed shoes for a whole day, people whose feet sweat a lot or are prone to infections or suffer from bad circulation.
Who are nanosilver socks suitable for?
an intrinsic part of a dress
perfect solution for people wearing closed footwear for a whole day, builders, any manual workers wearing heavy protective boots
suitable as a part of uniform for soldiers, policemen and other proffessionals
a relief to all fishermen and farmers who wear wellingtons frequently
a great treat to office workers and managers.
Just great for anyone whose feet sweat and produce unpleasant odour. Nanosilver socks and their great properties and good quality have been appreciated by many customers and you will enjoy them equally as well. For a weeks hiking tour you will not need more than two pairs of socks, or when you travel on the train or plane  you will be able to take your shoes off with confidence that they will be odourless.
Composition
66% cotton
20% polyester (antibacterial

fiber

nanosilver®)
12% elastane (Lycra®) 
2% polyamide
Organic cotton – freshness, permeability and organic origin
It makes 50% of material composition of the product. It has good tensile strength and abrasion which increases about 20% in wet conditions. It is suitable for the products which are strained and must be washed very often. The products are pleasant to touch and can suck large amount of moisture, e.g. sweat.
Organic cotton is grown without the use of any synthetic agricultural chemicals such as pesticides or fertilizers. It is softer to touch because its fibres are intact with any chemical which are normally used during growing and processing of cotton. It smells clear because there is not used formaldehyde during processing. It is more sensitive to skin, it is suitable for allergic people. It doesn´t contain any chemicals and it is more permeable.
nanosilver® - antibacterial
Silver molecules are firmly kept in polyester. Silver is well-known for its antibacterial efficiency – can eliminate bacteria which are in sweat and are odour-producer. As soon as the socks dry, they do not smell. This process is not never-ending. After first several uses the odour is suppressed, later it can be uncovered. It is important to dry these products either. Odour intensity is incomparably lower.
polyamide - firmness and hardiness
There are perfect qualities of polyamide like high firmness in wet or dry conditions, high hardiness of abrasion, high elasticity, low specific weight, big specific volume, easy treating (washing, drying etc.).  It is mainly used to make stockings and sport clothes. Every washing increases durability of woven and knitted fabrics from polyamide. Symptoms of hypersensitivity of skin during wearing are not caused by polyamide fibres but dyes, detergent residues and so on.
Lycra® - elasticity and amenability
It improves material elasticity. Extensibility of these fibres can be eightfold of length.
Maintenance
Material nanosilver® do not need any special treatment. It is the same as normal functional clothes.
Washing
We recommend washing at 40 degrees.
Laundry bleaching
We do not recommend bleaching.
Ironing
We do not recommend ironing.
Chemical treatment
Do not use chemical treatment.
Drying
We recommend drying under 60 °C.
Do not use fabric conditioner
We don´t recommend using the fabric conditioner to save the functionality of nanosilver® technology. The fabric conditioner creates the coat which makes a barrier between the skin and the material. To have the perfect efficiency of these clothes, it is important the molecules of silver to be in touch with the skin.
In case you treat these clothes with fabric conditioner, wash it again in water to recover the functionality.
Caution
Aggressive components of sweat, deodorants and sunscreen may possibly have negative reactions and damages to nanosilver clothing material.
E.g. Deodorants containing DEET may dissolve synthetic fibers, including PES.
Size chart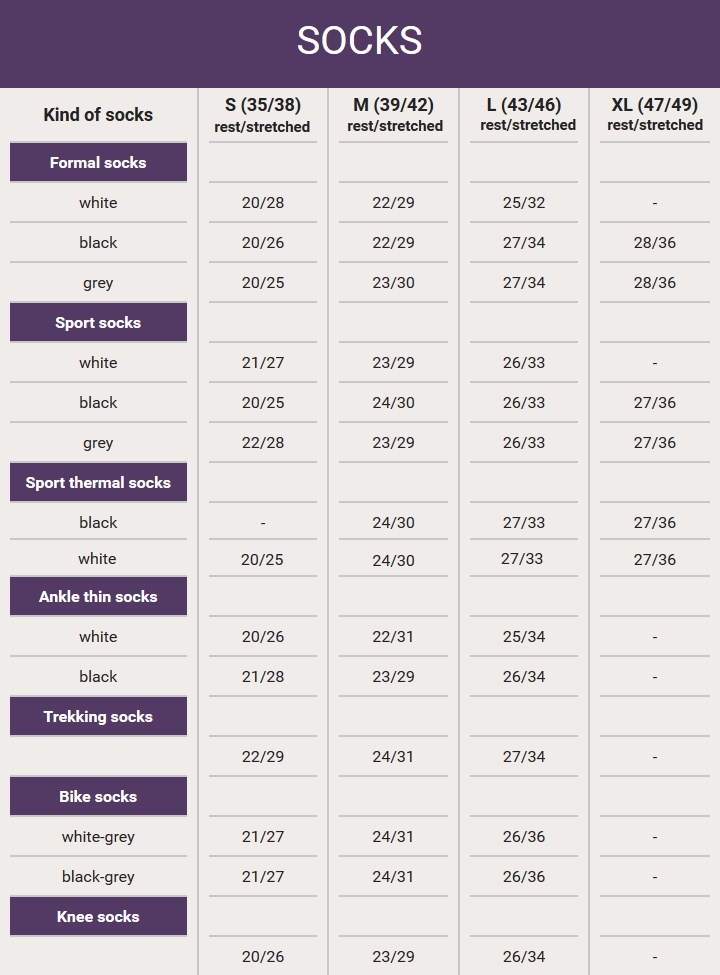 How to choose the correct size of the socks?
Measure your socks normal and outstretched.
According to this measure, find out the size in the chart.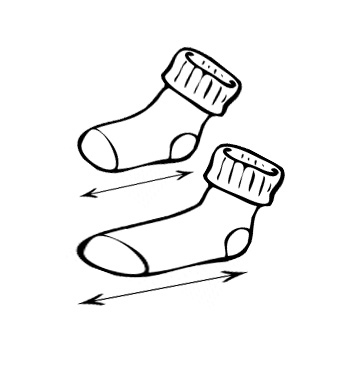 Comments (1)
Anette 20.05.2021
Super sock design! The socks are pleasant, funny, well made. I already have polka dots, my colleagues at work also like it. And it really doesn't stink! :-)
Related Products