Availability: in stock
24.9 €
Product description
slim fit
short sleeved gents' top
great for summer sports
fast drying
prevents growth of bacteria and odour
BLACK, WHITE, BLUE, GREY
Comfortable gents' t-shirt from the collection CLASSIC with short sleeves and round collars

The t-shirt has been designed as tight fitting to make the most of its unique properties. If you prefer looser t-shirts, do select a size larger.

You'll love this short sleeved tee all year round, whilst sporting, trekking, as a baselayer in the winter or just a casual top for daily use to work or at home. 
What makes nanosilver T-shirts stand out?
Nanosilver T-shirts prevent mycoses, eczemas and help in their treatment
Conduct sweat very well, kill bacteria and moulds
Absorb moisture, are breathable, light and flexible
Speed up healing of small cuts and wounds, prevent chafing
Wash them as normal underwear or t-shirts( recommended 30-40°C)
Keep their antibacterial properties for their lifetime. 
Packaging suitable as a gift box.
Composition
60% cotton
32% polyester (antibacterial

fiber

nanosilver®)
8% elastane (Lycra®) 
Organic cotton – freshness, permeability and organic origin
It makes 50% of material composition of the product. It has good tensile strength and abrasion which increases about 20% in wet conditions. It is suitable for the products which are strained and must be washed very often. The products are pleasant to touch and can suck large amount of moisture, e.g. sweat.
Organic cotton is grown without the use of any synthetic agricultural chemicals such as pesticides or fertilizers. It is softer to touch because its fibres are intact with any chemical which are normally used during growing and processing of cotton. It smells clear because there is not used formaldehyde during processing. It is more sensitive to skin, it is suitable for allergic people. It doesn´t contain any chemicals and it is more permeable.
nanosilver® - antibacterial
Silver molecules are firmly kept in polyester. Silver is well-known for its antibacterial efficiency – can eliminate bacteria which are in sweat and are odour-producer. As soon as the socks dry, they do not smell. This process is not never-ending. After first several uses the odour is suppressed, later it can be uncovered. It is important to dry these products either. Odour intensity is incomparably lower.
Lycra® - elasticity and amenability 
It improves material elasticity. Extensibility of these fibres can be eightfold of length.
Maintenance
Material nanosilver® do not need any special treatment. It is the same as normal functional clothes.
Washing
We recommend washing at 40 degrees.
Laundry bleaching
We do not recommend bleaching.
Ironing
We do not recommend ironing.
Chemical treatment
Do not use chemical treatment.
Drying
We recommend drying under 60 °C.
Do not use fabric conditioner
We don´t recommend using the fabric conditioner to save the functionality of nanosilver® technology. The fabric conditioner creates the coat which makes a barrier between the skin and the material. To have the perfect efficiency of these clothes, it is important the molecules of silver to be in touch with the skin.
In case you treat these clothes with fabric conditioner, wash it again in water to recover the functionality.
Caution
Aggressive components of sweat, deodorants and sunscreen may possibly have negative reactions and damages to nanosilver clothing material.
E.g. Deodorants containing DEET may dissolve synthetic fibers, including PES.
Size chart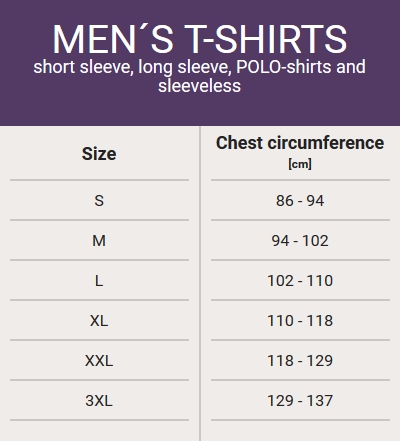 How to choose correct size of man´s T-shirt?
Measure your chest perimeter in the armpit.
According to this measure, find out your size in the chart.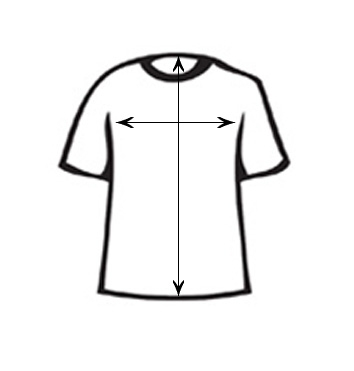 Comments (5)
Jan 22.05.2019
Dear Jan, many thanks for your warm describing of benefits of our products. We hope you be our long term fan.

nanosilver team
Jan 15.05.2019
Nanosilver clothing was used and tested on equator level in South America. The goal was to test its performance during a assembly mounting process on kosmodrom Kourou in French Guayana. Employees of MCE Slany company are stationed there to assemble components of the new european project Ariane 6 launching pad in high temperatures, high humidity and heavy rain. Therefore, a good clothing is essential.
Conclusions
1. nanosilver coolmax is a perfect match for high demanding environment of the rainforest.
2. nanosilver classic is - by my opinion - suitable as a basic layer under the workclothes. As there is a long-sleeve policy, it is great to have a good body-thermal management in place. Same applies for the socks.
I intentionally tested its antibacterial properties by wearing it several days in a row… Well, it didn't smell so I didn't feel bad nor make a bad impression on anyone.
You have my recommendations. Bravo, Czech-fellas!

Vaclav 06.04.2018
Hi nanosilver, great shirt to any accasion!
Classic series T-shirts are the best basic layer, i.e. under jerseys in string and autumn for outdoors sports
Variety of standard colors perfect fit to other fashion clothes

+ simple basic T-shirt allowing lot of fashion combinations
+ elastic and cotton material fits all bodies

Slightly higher sweating does not matter as the silver in the T-shirt reduces the odour
Recommended!
nanosilver.eu 20.07.2017
Hello, yes, we very often realize a special size for our clients (customized). 5XL is our maximal experiency till now. Please choose exact product number or name, check the size table and send us:
- measured dimensions according size table (details are here: https://www.nanosilver.eu/Stranky/Size-chart-and-material-composition)
- t-shirt type, better is link to product and colour
- quantity according type and colour
- full contact (name, surname, address including ZIP, phone number ...)
- we send you pro-forma invoice. After payment we produce size according your wish and send you by post.

If you need some other details, please contact us at info@nanosilver.cz

Regards


nanosilver team
Bryson 30.06.2017
Hello nanosilver technology company can you make some plain white and plain black in sizes of 5XL plus thank you and hope to see them instore for all clothing God jesus holy spirit bless ? ? ?
Related Products