Sports
Nanosilver knee socks SPACE with silver and merino wool
Availability: in stock
19.9 €
Product description
ski socks, also suitable for winter treks

silver prevents the growth of bacteria in them - sources of odor

excellent thermal insulation properties due to the proportion of Merino wool

color BLACK / BLUE / RED

sizes S (35-38), M (39-42), L (43-46), XL (47-49)
The shape and reinforced tread of the sock allow for long-term and comfortable wearing. Silver, contained in nanosilver socks, serves as a prevention of fungi, mycoses and eczema, or helps to remove them. Merino wool ensures thermal comfort, even when wet. The socks have the ability to absorb, are breathable, flexible and provide a pleasant feeling. Whether you are solving the problem of how to eliminate excessive sweating of your feet or you (and your surroundings) simply do not smell your feet twice, you will appreciate nanosilver socks and their high quality. You will appreciate these socks especially for winter sports.
Who are nanosilver silver stockings for?
for all athletes as a functional basis of clothing
for lovers of winter sports
for skiers, snowboarders, skaters and runners for all travelers and mountaineers
Composition
37% Merino wool
29% cotton
23% polyamide
8% polyester (antibacterial nanosilver® fiber)
3% elastane
Maintenance
Material nanosilver® do not need any special treatment. It is the same as normal functional clothes.
Washing
We recommend washing at 40 degrees.
Laundry bleaching
We do not recommend bleaching.
Ironing
We do not recommend ironing.
Chemical treatment
Do not use chemical treatment.
Drying
We recommend drying under 60 °C.
Do not use fabric conditioner
We don´t recommend using the fabric conditioner to save the functionality of nanosilver® technology. The fabric conditioner creates the coat which makes a barrier between the skin and the material. To have the perfect efficiency of these clothes, it is important the molecules of silver to be in touch with the skin.
In case you treat these clothes with fabric conditioner, wash it again in water to recover the functionality.
Caution
Aggressive components of sweat, deodorants and sunscreen may possibly have negative reactions and damages to nanosilver clothing material.
E.g. Deodorants containing DEET may dissolve synthetic fibers, including PES.
Size chart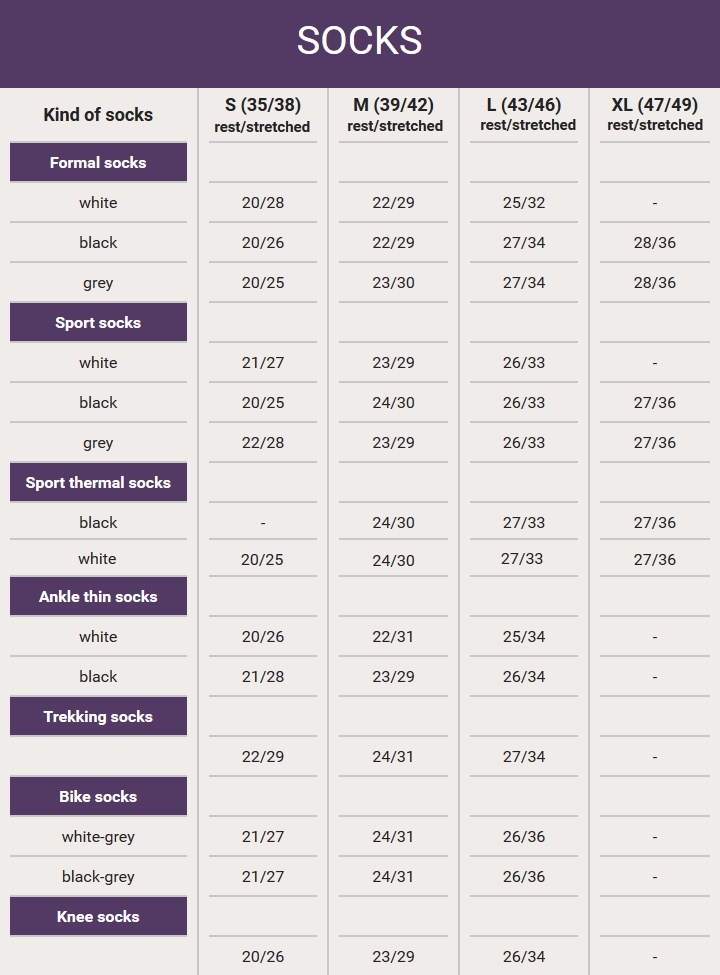 How to choose the correct size of the socks?
Measure your socks normal and outstretched.
According to this measure, find out the size in the chart.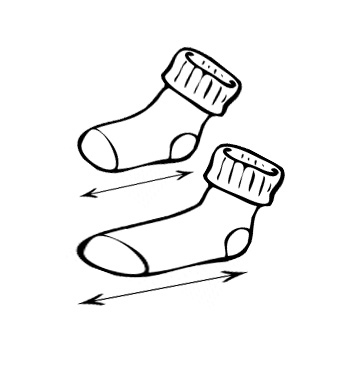 Comments (1)
Renata 14.10.2021
Perfect knee socks! They have a great shape, are warm and soft. I wear them in ski boots and skating. The package with the socks came to me within a few days, I commend the fast delivery. Thank you:-)
Related Products