Product description
UNISEX
absorbs sweat well
flexible
protects from UV rays
classic imprinted nanosilver hexa
termo imprinted nanosilver hexa 2016
termo imprinted nanosilver 2017
1 Pieces in a package
-   Absorbs sweat well, soft, flexible and breathable
-   Wearable anytime, at work, free time, while exercising
-   The nanosilver effect lasts for the lifetime of the bandana
Nanosilver head/neck Bandana is a must have during a hot summer and it will keep you warm in windy days. It is weaved from cotton with elastane and a part of nanosilver polyester yarn.

Silver is a safe yet strong antibacterial & antimycotic agent. Nanoparticles of silver (size 1-100 nm) kill a wide spectrum of bacteria including Escherichia coli, Chlamydia trachomatis, Providencia stuartii, Vibrio vulnificus, Pneumobacillus, Staphylococcus aureus, Candida albicans and many others.
Composition
CLASSIC imprinted nanosilver hexa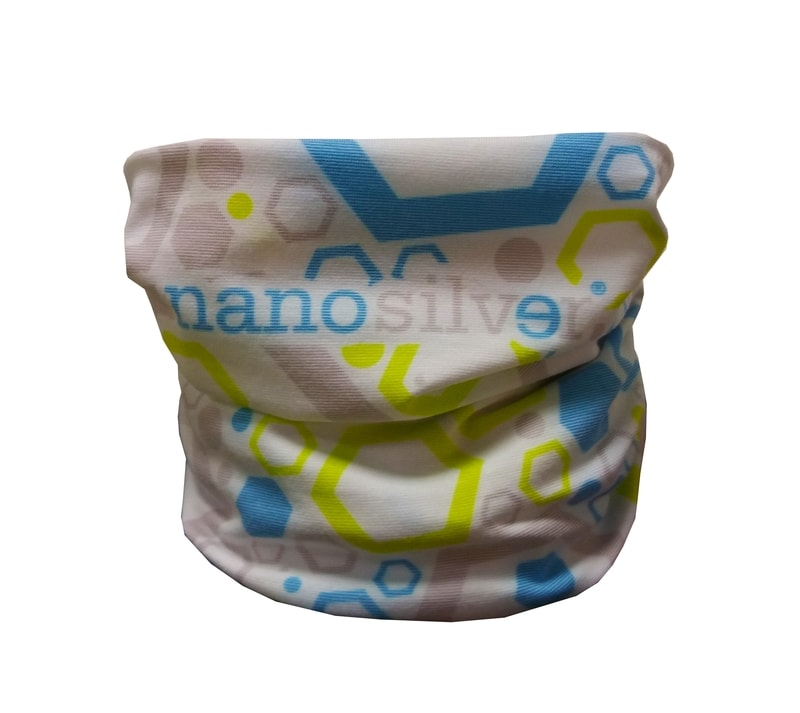 60% cotton
32% polyester (antibacterial

fiber

nanosilver®)
8% elastane (Lycra®)
TERMO imprinted nanosilver hexa 2016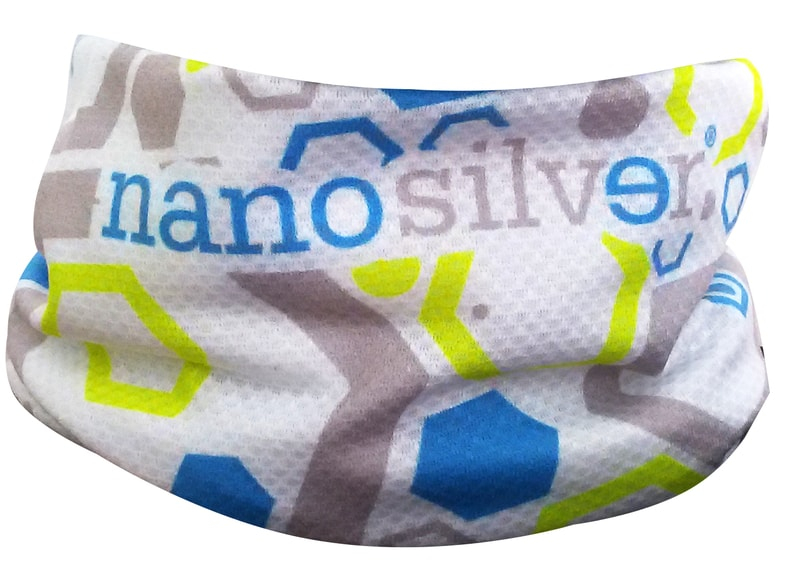 52% polyester (Thermo®Cool™)
44% polyester (antibacterial

fiber

nanosilver®)
4% elastan (Lycra®) 
TERMO imprinted nanosilver 2017

52% polyester (Thermo®Cool™)
44% polyester (antibacterial

fiber

nanosilver®)
4% elastan (Lycra®) 
DAKAR imprinted "Shape"

52% polyester (Coolmax®)
48% polyester (antibacterial

fiber

nanosilver®)
Organic cotton – freshness, permeability and organic origin
It makes 50% of material composition of the product. It has good tensile strength and abrasion which increases about 20% in wet conditions. It is suitable for the products which are strained and must be washed very often. The products are pleasant to touch and can suck large amount of moisture, e.g. sweat.
Organic cotton is grown without the use of any synthetic agricultural chemicals such as pesticides or fertilizers. It is softer to touch because its fibres are intact with any chemical which are normally used during growing and processing of cotton. It smells clear because there is not used formaldehyde during processing. It is more sensitive to skin, it is suitable for allergic people. It doesn´t contain any chemicals and it is more permeable.

nanosilver® - antibacterial
Silver molecules are firmly kept in polyester. Silver is well-known for its antibacterial efficiency – can eliminate bacteria which are in sweat and are odour-producer. As soon as the socks dry, they do not smell. This process is not never-ending. After first several uses the odour is suppressed, later it can be uncovered. It is important to dry these products either. Odour intensity is incomparably lower.

Lycra® - elasticity and amenability 
It improves material elasticity. Extensibility of these fibres can be eightfold of length.

Thermo®Cool™ - autoregulation
The fibres are composed from hollow fibres and channel fibres. Channels are used to drain away more sweat and moisture than common cylindrical fibre. The sweat is drained away onto polyester fibre surface, from where it evaporates and the clothes dry. The hollow fibre is able to catch the air and it works as an isolation. Connecting of these two functions we can reach dry and hot-feeling.

Coolmax® - cooling
Profiled fibres drain moisture and sweat away on larger surface of material from where it evaporates faster. Socks dry more quickly and are able to make better thermal exchange what is perfect to support pulse and improve physical exercise.
Maintenance
Material nanosilver® do not need any special treatment. It is the same as normal functional clothes.
Washing
We recommend washing at 40 degrees.
Laundry bleaching
We do not recommend bleaching.
Ironing
We do not recommend ironing.
Chemical treatment
Do not use chemical treatment.
Drying
We recommend drying under 60 °C.
Do not use fabric conditioner
We don´t recommend using the fabric conditioner to save the functionality of nanosilver® technology. The fabric conditioner creates the coat which makes a barrier between the skin and the material. To have the perfect efficiency of these clothes, it is important the molecules of silver to be in touch with the skin.
In case you treat these clothes with fabric conditioner, wash it again in water to recover the functionality.
Caution
Aggressive components of sweat, deodorants and sunscreen may possibly have negative reactions and damages to nanosilver clothing material.
E.g. Deodorants containing DEET may dissolve synthetic fibers, including PES.
Comments (1)
Vasek 06.04.2018
+ awesome universal piece of clothing
+ I like that it is not too thick, you can put it into a pocket when you don't need it
+ cover the neck, good prevention against cold for motorcycling, biking, hiking…
I always take one with me.

Related Products