Panties
Woman's panties nanosilver + coolmax
Availability: in stock
21.1 €
Product description
unique composition nanosilver® + Coolmax® 
cooling effect
drain sweat away from the skin
kill bacteria due to silver nanoparticles
do not cause allergic reactions
pink
Ladies panties nanosilver® + COOLMAX® - DAKAR are comfortable and well designed modern underpants with great cooling and antibacterial effect.
These panties look great with ladies T-shirt from the DAKAR collection.
 DAKAR panties
Suitable for any kind of activity
Particularly effective during strenuous exercise in the hardest conditions

Stay odorless after prolonged use for several days
Made from certified yarn COOLMAX®
All products from DAKAR collection have been successfully tested at DAKAR expedition 2011
How does it work?
The Coolmax fibre is very effective at draining of sweat from the body. Sweat is distributed on much bigger surface of the fabric, where it rapidly evaporates. The material is soft, light and breathable.  It keeps you fresh all day long.
nanosilver® yarn - the second component of the clothing prevents growth of bacteria and resulting odor. Clothing stay antibacterial for their lifetime. Silver is a safe yet strong antibacterial & antimycotic agent. Nanoparticles of silver (size 1-100 nm) kill a wide spectrum of bacteria including Escherichia coli, Chlamydia trachomatis, Providencia stuartii, Vibrio vulnificus, Pneumobacillus, Staphylococcus aureus, Candida albicans etc. Nanoparticles of silver are strongly bound to the fibre and are not released by washing.
Composition
Fibre COOLMAX® - cooling
Profiled fibres drain moisture and sweat away on larger surface of material from where it evaporates faster. Socks dry more quickly and are able to make better thermal exchange what is perfect to support pulse and improve physical exercise.
nanosilver® - antibacterial
Silver molecules are firmly kept in polyester. Silver is well-known for its antibacterial efficiency – can eliminate bacteria which are in sweat and are odour-producer. As soon as the socks dry, they do not smell. This process is not never-ending. After first several uses the odour is suppressed, later it can be uncovered. It is important to dry these products either. Odour intensity is incomparably lower.
Maintenance
Material nanosilver® do not need any special treatment. It is the same as normal functional clothes.
Washing
We recommend washing at 40 degrees.
Laundry bleaching
We do not recommend bleaching.
Ironing
We do not recommend ironing.
Chemical treatment
Do not use chemical treatment.
Drying
We recommend drying under 60 °C.
Do not use fabric conditioner
We don´t recommend using the fabric conditioner to save the functionality of nanosilver® technology. The fabric conditioner creates the coat which makes a barrier between the skin and the material. To have the perfect efficiency of these clothes, it is important the molecules of silver to be in touch with the skin.
In case you treat these clothes with fabric conditioner, wash it again in water to recover the functionality.
Caution
Aggressive components of sweat, deodorants and sunscreen may possibly have negative reactions and damages to nanosilver clothing material.
E.g. Deodorants containing DEET may dissolve synthetic fibers, including PES.
Size chart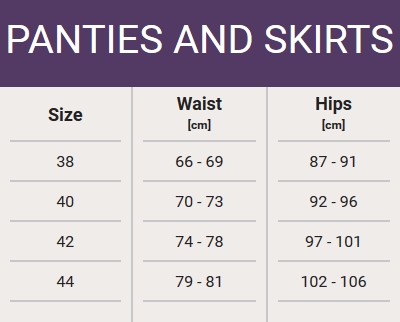 How to choose correct size of panties?
Measure your waistline.
Measure the circumference of your hips.
According to this measure, find out your size in the chart.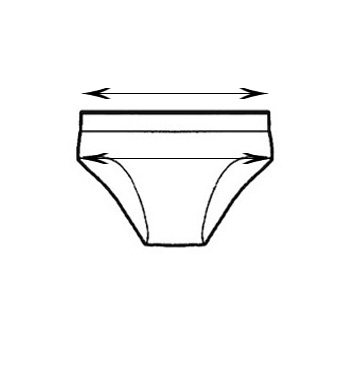 Comments (1)
Alis 16.08.2021
I'm excited, pink is TOP