Availability: in stock
33.0 €
Product description
Ideal to active sport and travelling
cools on warm days
prevents to growth bacteria – the source of odor
light material, quick drying, not require a frequent washing
 confortable fit
 BLACK/PINK, BLACK/BLUE, BLACK/REFLEX YELLOW

The nanosilver® t-shirt with antibacterial effects is ideal to warm or extremely hot days to daily wear, sport or travelling.
Very pretty ladies short sleeved T-shirt from the new collection of performance garments DAKAR.
Nanosilver® + COOLMAX®-DAKAR is a fashionable top with cooling and antibacterial properties.
Why not try: when travelling, don't forget to take this t-shirt. It's pretty, light, takes up little space and will ensure comfort to the highest standard.
The t-shirt weight and its foldability make it ideal for easy packaging for travelling. And brings the comfort when worn. Thanks to its odour resistancy you can pack a less pieces of clothes which appreciates any traveller or holidaymaker.
The nanosilver® DAKAR collection with bacteria and odour protection in combination with Coolmax® fiber is ideal for autoregulation body temperature and quick drying proces. It is repeatedly tested in lab or in extreme outdoor conditions.
The fibers in DAKAR fabric are constructed to make the shirt to be highly breathable. So the feeling of cooling effect could be reached even during very hot days.
Composition
52% polyester (Coolmax®)
48% polyester (antibacterial fiber nanosilver®)
Fiber COOLMAX® - cooling
Profiled fibres drain moisture and sweat away on larger surface of material from where it evaporates faster. The fabric dries faster and allows better thermal autoregulation of temperature which positively supports the pulse and improve physical exercise.
nanosilver® - antibacterial
Silver molecules are fixed into polyester fiber. Silver is well-known for its antibacterial efficiency – can eliminate bacteria which are in sweat and are odour-producer. The fabric does not stink when dries. But this process is not never-ending. After first several uses the odour could be suppressed. It is important to wash these products too. But the odour intensity is incomparably lower.
Maintenance
Material nanosilver® do not need any special treatment. It is the same as normal functional clothes.
Washing
We recommend washing at 40 degrees.
Laundry bleaching
We do not recommend bleaching.
Ironing
We do not recommend ironing.
Chemical treatment
Do not use chemical treatment.
Drying
We recommend drying under 60 °C.
Do not use fabric conditioner
We don´t recommend using the fabric conditioner to save the functionality of nanosilver® technology. The fabric conditioner creates the coat which makes a barrier between the skin and the material. To have the perfect efficiency of these clothes, it is important the molecules of silver to be in touch with the skin.
In case you treat these clothes with fabric conditioner, wash it again in water to recover the functionality.
Caution
Aggressive components of sweat, deodorants and sunscreen may possibly have negative reactions and damages to nanosilver clothing material.
E.g. Deodorants containing DEET may dissolve synthetic fibers, including PES.
Additional informations:
We warn our customers of possible negative reactions or materiál demage to nanosilver clothing on the aggressive components of sweat, deodorants with DEET component and sun or any other creams, before and after sunbathing, potential mechanical demage by Velcro and other sharp objects
Size chart

How to choose correct size of woman´s T-shirt?
Measure your chest perimeter in the armpit.
According to this measure, find out your size in the chart.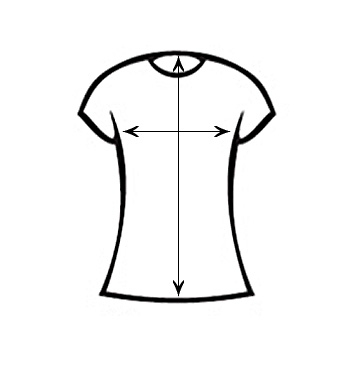 Comments (1)
Monica 07.05.2021
Hi, very nice color combinations, you can dress for work or sport. The shirt is still pleasantly dry, I can recommend. Thanks Nanosilver :-)