Sleeveless
Woman´s fitness tank top nanosilver ACTIVE black with strip
Availability: in stock
34.0 €
Product description
antibacterial due to the nanoparticles of silver
drains sweat and eliminates odour
prevents mycoses and eczemas
black with light pink strip, black with dark pink strip

Woman´s fitness tank top from our nanosilver® Active Collection is suitable for sports and all physical activities. It has a modern design and a cut that encircles the body silhouette. Thanks to the pleasant and flexible material, it creates the so-called second skin that wick a sweat away from the skin.
Active materials are very pleasant and comfortable to wear and do sport.
It does not smell, even when you sweat. This pleasant material will be like your second skin.

Silver molecules prevent the formation of bacteria and thus eliminate the odor after drying. It prevents skin problems and mycoses.
Our nano tiness tank top have the ability to absorb moisture, they are breathable and flexible.
The Active nanosilver collection containing silver against bacteria and odors is repeatedly tested in various daily and extreme conditions.
What makes nanosilver Ladies' top stand out?
Nanosilver T-shirts prevent mycoses, eczemas and help in their treatment
Drain sweat very well, kill bacteria and moulds
Absorb moisture, are breathable, light and flexible
Speed up healing of small cuts and wounds, prevent chafing
Wash them as normal underwear or t-shirts( recommended 30-40°C)
Keep their antibacterial properties for their lifetime.
Composition
90% Polyester Coolmax® ALL SEASON Fresh
• 10% elastane (Lycra)

Silver molecules are firmly attached to the polyester fibers. Silver is known for its antibacterial effects - eliminates bacteria from sweat that are source of smell. Once the material dries off it does not stink. However, this process is not endless. After the first use, the odor is suppressed. After repeated using the smell may appears. Therefore, it is necessary to wash these materials as well. However, the odor intensity is by far lower compared to conventional materials.
Lycra® - flexibility and pliability
It gives the material greater flexibility (pliability) and elasticity. The extensibility of these fibers reaches up to eight times the length.
Maintenance
Material nanosilver® do not need any special treatment. It is the same as normal functional clothes.
Washing
We recommend washing at 40 degrees.
Laundry bleaching
Nedoporučujeme bělit.
Ironing
We do not recommend bleaching.
Chemical treatment
Do not use chemical treatment.
Drying
We recommend drying under 60 °C.
Do not use fabric conditioner
We don´t recommend using the fabric conditioner to save the functionality of technology nanosilver® . The fabric conditioner creates the coat which makes the barier between skin and material. To have perfect efficiency of these clothes it is important the molecules of silver to be in touch with the skin.
In case you treat these clothes with fabric conditioner, wash it again in water to recover the funcionality. 
Caution
Aggressive components of sweat, deodorants and sunscreen may possibly have negative reactions and damages to nanosilver clothing material.
E.g. Deodorants containing DEET may dissolve synthetic fibers, including PES.
Size chart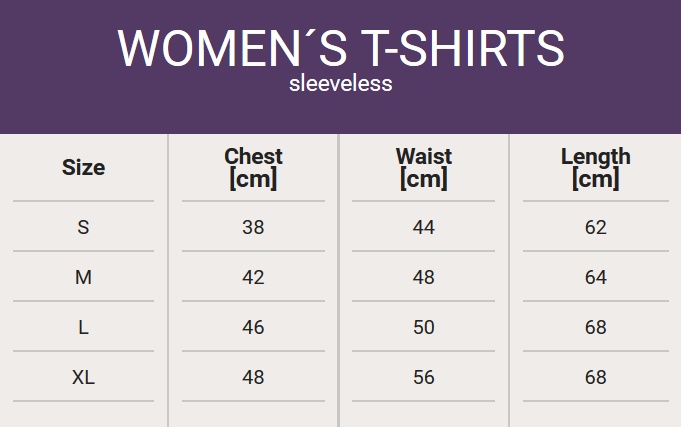 How to choose the correct size of woman´s sleeveless T-shirt?
Measure your chest circumference in the armpit.
Measure your waistline.
Measure the length from the shoulder to the waist.
According to this measure, find out the size in the chart.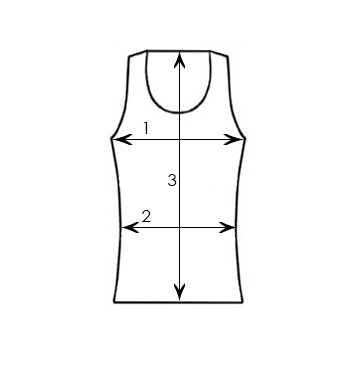 Comments (1)
Kate 27.05.2021
Hello, I bought a tank top. Interesting back solution. The cut fits, the back is just cut. The material is stronger, very flexible. I also have short leggings made of the same material, I like to wear them. Thanks.
Related Products