Availability: in stock
35.0 €
Product description
thermal panty shorts
very comfortable and functional
flexible anatomical shape
drain sweat, dry fast
GRAY CAMOUFLAGE, GREEN CAMOUFLAGE
The unique properties of antibacterial boxer briefs
Nanosilver clothes prevent eczemas and help in their treatment
Drains sweat very well, kill bacteria and moulds
Absorb moisture, are breathable, light and flexible
Speed up healing of small cuts and wounds, prevent chafing
Wash them as normal underwear or t-shirts( recommended 30-40°C)
Keep their antibacterial properties for their lifetime. 
Composition
52% polyester (Thermo°Cool™)
44% polyester (antibacterial

fiber

nanosilver®)
4% elastan (Lycra®) 
Thermo°Cool™ - autoregulation
The fibres are composed from hollow fibres and channel fibres. Channels are used to drain away more sweat and moisture than common cylindrical fibre. The sweat is drained away onto polyester fibre surface, from where it evaporates and the clothes dry. The hollow fibre is able to catch the air and it works as an isolation. Connecting of these two functions we can reach dry and hot-feeling.
nanosilver® - antibacterial
Silver molecules are firmly kept in polyester. Silver is well-known for its antibacterial efficiency – can eliminate bacteria which are in sweat and are odour-producer. As soon as the socks dry, they do not smell. This process is not never-ending. After first several uses the odour is suppressed, later it can be uncovered. It is important to dry these products either. Odour intensity is incomparably lower.
Lycra® - elasticity and amenability
It improves material elasticity. Extensibility of these fibres can be eightfold of length.
Maintenance
Material nanosilver® do not need any special treatment. It is the same as normal functional clothes.
Washing
We recommend washing at 40 degrees.
Laundry bleaching
We do not recommend bleaching.
Ironing
We do not recommend ironing.
Chemical treatment
Do not use chemical treatment.
Drying
We recommend drying under 60 °C.
Do not use fabric conditioner
We don´t recommend using the fabric conditioner to save the functionality of nanosilver® technology. The fabric conditioner creates the coat which makes a barrier between the skin and the material. To have the perfect efficiency of these clothes, it is important the molecules of silver to be in touch with the skin.
In case you treat these clothes with fabric conditioner, wash it again in water to recover the functionality.
Caution
Aggressive components of sweat, deodorants and sunscreen may possibly have negative reactions and damages to nanosilver clothing material.
E.g. Deodorants containing DEET may dissolve synthetic fibers, including PES.
Size chart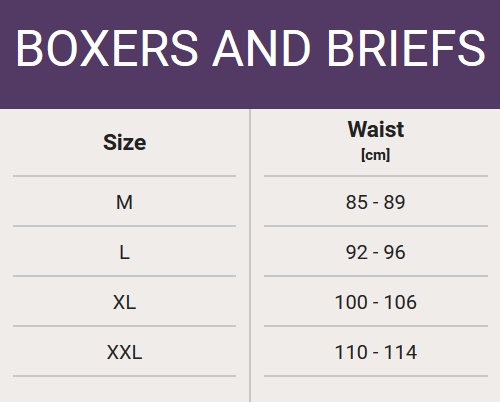 How to choose the correct size of the boxer shorts?
Measure your waistline.
According to this measure, find out the size in the chart.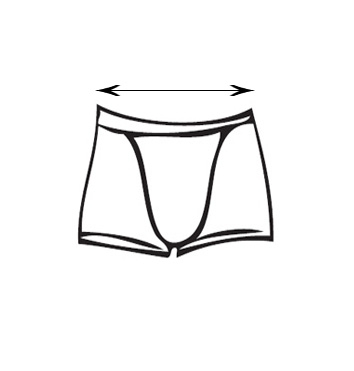 Related Products