Socks
Ankle thin socks with molecules of silver
Product description
thin antibacterial socks for cycling and for sports shoes
ergonomically shaped without slipping
light and breathable
prevents unpleasant odour
COLOURS: PINK, BLUE, GREEN, REFLECTIVE YELLOW
Great socks for the summer for free time and sports.
Sports sock, short up to the ankles. Very light and unusually designed to prevent rolling in the shoes and slipping off. Ideal into trainers for running, tennis or any favourite sport.
Properties of nanosilver® socks
due to the nanosilver® component they are antibacterial against a wide spectrum of pathogens
prevent emergence of mycoses and eczemas and help in their treatment
speed up healing of small cuts and wounds
non-toxic, do not cause allergic reactions
They are an essential item of sports clothing for anyone whose feet sweat a lot. These socks are great for daily use but reach their full potential during demanding exercise in harsh conditions.
Who are the socks suitable for?
essential for all cyclists, runners, tennis players, hikers and anyone else wearing trainers
Tame your feet odour, nanosilver® socks are the right solution for you due to their novel approach and quality manufacturing. For a week of trekking hike, you'll need a maximum of two pairs of these socks. Equally, you can appreciate their properties on the train, bus or plane where you can comfortably take your shoes off without worrying about any odours coming from your feet.
Composition
55% cotton
30% polyester (antibacterial

fiber

nanosilver®)
15% elastane (Lycra®) 
Organic cotton – freshness, permeability and organic origin
It makes 50% of material composition of the product. It has good tensile strength and abrasion which increases about 20% in wet conditions. It is suitable for the products which are strained and must be washed very often. The products are pleasant to touch and can suck large amount of moisture, e.g. sweat.
Organic cotton is grown without the use of any synthetic agricultural chemicals such as pesticides or fertilizers. It is softer to touch because its fibres are intact with any chemical which are normally used during growing and processing of cotton. It smells clear because there is not used formaldehyde during processing. It is more sensitive to skin, it is suitable for allergic people. It doesn´t contain any chemicals and it is more permeable.
nanosilver® - antibacterial
Silver molecules are firmly kept in polyester. Silver is well-known for its antibacterial efficiency – can eliminate bacteria which are in sweat and are odour-producer. As soon as the socks dry, they do not smell. This process is not never-ending. After first several uses the odour is suppressed, later it can be uncovered. It is important to dry these products either. Odour intensity is incomparably lower.
Lycra® - elasticity and amenability 
It improves material elasticity. Extensibility of these fibres can be eightfold of length.
Maintenance
Material nanosilver® do not need any special treatment. It is the same as normal functional clothes.
Washing
We recommend washing at 40 degrees.
Laundry bleaching
We do not recommend bleaching.
Ironing
We do not recommend ironing.
Chemical treatment
Do not use chemical treatment.
Drying
We recommend drying under 60 °C.
Do not use fabric conditioner
We don´t recommend using the fabric conditioner to save the functionality of nanosilver® technology. The fabric conditioner creates the coat which makes a barrier between the skin and the material. To have the perfect efficiency of these clothes, it is important the molecules of silver to be in touch with the skin.
In case you treat these clothes with fabric conditioner, wash it again in water to recover the functionality.
Caution
Aggressive components of sweat, deodorants and sunscreen may possibly have negative reactions and damages to nanosilver clothing material.
E.g. Deodorants containing DEET may dissolve synthetic fibers, including PES.
Size chart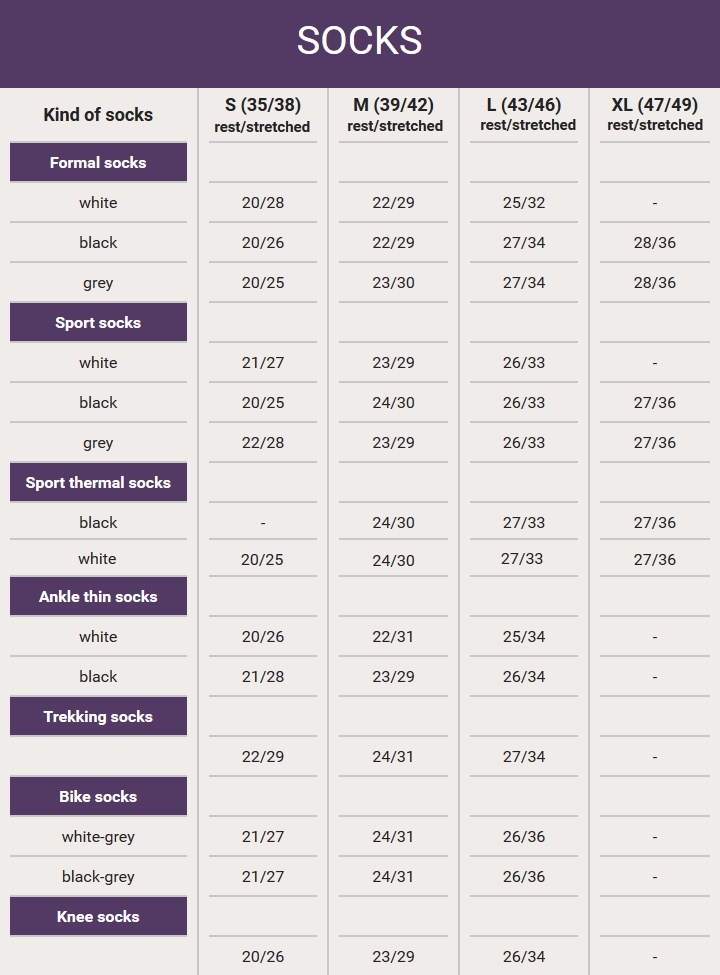 How to choose the correct size of the socks?
Measure your socks normal and outstretched.
According to this measure, find out the size in the chart.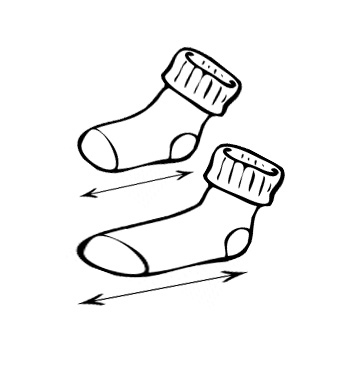 Comments (1)
Vaclav 06.04.2018
+ don't slip down from feet
+ great for summer sports
+ attractive design
Related Products