Availability: in stock
35.0 €
Product description
suitable for sport mainly for running

reduce swelling, boost blood circulation

soothe and massage Achy legs and feet

alleviate symptoms of varicose veins

eliminate odor

antibacterial properties

comfortable for everyday wearing

BLACK

The unique properties of nanosilver® socks
prevent a growth of a wide spectrum of bacteria
absorb sweat, kill bacteria and eliminate feet odor
prevent mycosis and eczema and help with their treatment
non-toxic and do not cause allergic reactions
speed up the process of healing of small wounds and cuts
improve blood circulation in legs and prevent cold feet
breathable, flexible and anatomically designed
Composition
51% polyamide
36% elastane (Lycra®) 
8%  polyester (antibacterial

fiber

nanosilver®)
5%  polypropylene
polyamide - firmness and hardiness
There are perfect qualities of polyamide like high firmness in wet or dry conditions, high hardiness of abrasion, high elasticity, low specific weight, big specific volume, easy treating (washing, drying etc.).  It is mainly used to make stockings and sport clothes. Every washing increases durability of woven and knitted fabrics from polyamide. Symptoms of hypersensitivity of skin during wearing are not caused by polyamide fibres but dyes, detergent residues and so on.
Lycra® - elasticity and amenability
It improves material elasticity. Extensibility of these fibres can be eightfold of length.
nanosilver® - antibacterial
Silver molecules are firmly kept in polyester. Silver is well-known for its antibacterial efficiency – can eliminate bacteria which are in sweat and are odour-producer. As soon as the socks dry, they do not smell. This process is not never-ending. After first several uses the odour is suppressed, later it can be uncovered. It is important to dry these products either. Odour intensity is incomparably lower.
polypropylene - waterproofing and thermal insulation
The polypropylene qualities are well-known nowadays: absolute water resistance, strong thermal insulating ability, low weight. Polypropylene has qualities, which are used for production of sport functional clothes, and it is better than other fibres.
Maintenance
Material nanosilver® do not need any special treatment. It is the same as normal functional clothes.
Washing
We recommend washing at 40 degrees.
Laundry bleaching
We do not recommend bleaching.
Ironing
We do not recommend ironing.
Chemical treatment
Do not use chemical treatment.
Drying
We recommend drying under 60 °C.
Do not use fabric conditioner
We don´t recommend using the fabric conditioner to save the functionality of nanosilver® technology. The fabric conditioner creates the coat which makes a barrier between the skin and the material. To have the perfect efficiency of these clothes, it is important the molecules of silver to be in touch with the skin.
In case you treat these clothes with fabric conditioner, wash it again in water to recover the functionality.
Caution
Aggressive components of sweat, deodorants and sunscreen may possibly have negative reactions and damages to nanosilver clothing material.
E.g. Deodorants containing DEET may dissolve synthetic fibers, including PES.
Size chart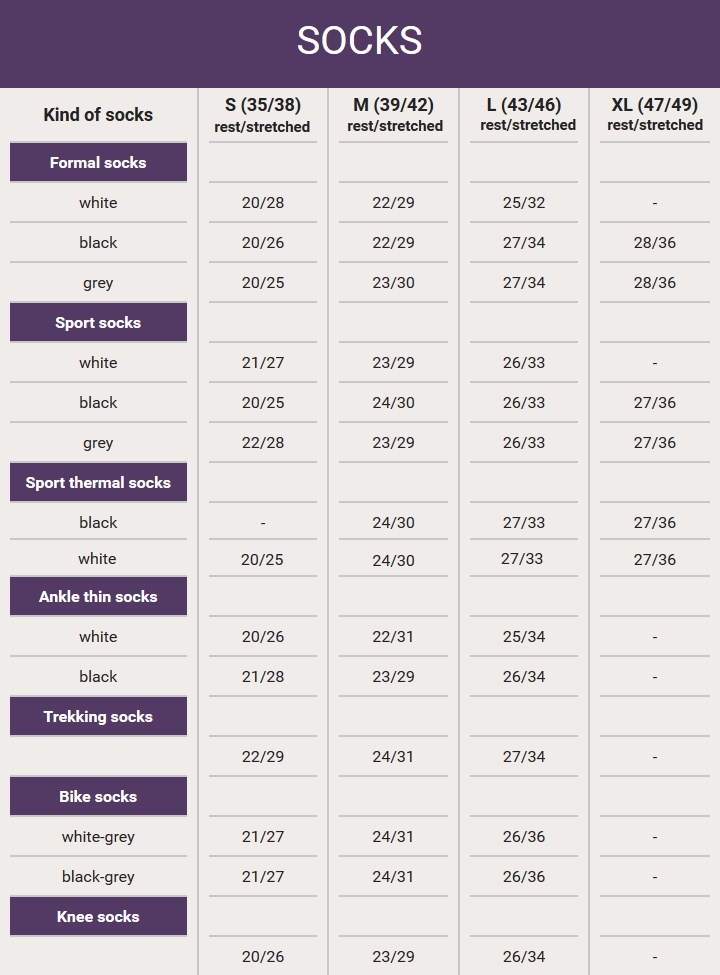 How to choose the correct size of the socks?
Measure your socks normal and outstretched.
According to this measure, find out the size in the chart.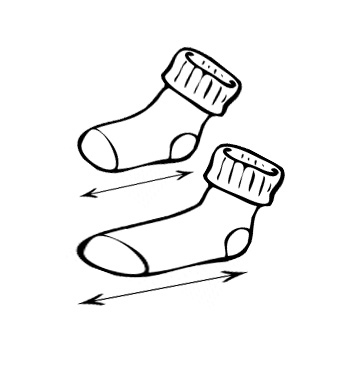 Related Products